JEAN-JACQUES ANNAUD
INTERNATIONAL DIRECTOR
World-renowned for his work and film challenges, Jean-Jacques Annaud is one of the few European directors with an international career of more than five decades. Born in 1943, he first directs over 400 advertising films in Africa and France in the late '60's, many of which win awards at major festivals. As of his very first feature film (Black and White in Color, shot in Ivory Coast, Oscar winner for Best Foreign Language Film, 1977), he developed an unfailing attraction for the cultures of the world.
After a French film (Hot Head, 1979) that becomes a cult classic in his homeland, he moves to Kenya, Scotland and Canada to shoot Quest for Fire which brings him international recognition (1981, César - French National Award - for Best Film & for Best Director). He then directs Sean Connery on the Italian sets and the German monasteries of The Name of the Rose (1986, César for Best Foreign Film and David Di Donatello for Best Director), based on Umberto Eco's eponymous novel. He triumphs again a few years later by adopting The Bear's P.O.V. (César for Best Director, 1988) in the heart of select locations of the Dolomites, Germany, Canada and Austria. He then shoots The Lover (1992) in Vietnam, the adaptation of Marguerite Duras's autobiographical novel, brilliantly recreating the atmosphere of colonial Indochina. He then sets back out to the Canadian Rockies and directs Wings of Courage, the first 3D fiction film ever made in Imax-3D (1995).
A few years later, Jean-Jacques Annaud takes Brad Pitt to the far reaches of the Himalayas and directs Seven Years in Tibet (shot in Argentina, Canada, Tibet, Nepal and Tyrol). In 2001, he reunites Jude Law and Ed Harris in the hell of the famed battle of Stalingrad (Enemy at the Gates, 2001) completely reconstructed in Germany. Soon after, he flies to the ruins of the temples of Angkor and gives life to Two Brothers, the shooting taking place in Cambodia, Thailand and France. The filmmaker then sets out to revive ancient Greece (His Majesty Minor, 2007, shot in Spain), then Arabia of the late '30's, directing Antonio Banderas in Tunisia and Qatar in Black Gold (2011).
In 2015, he adapts Wolf Totem, a Chinese literary phenomenon entirely shot in Inner Mongolia. A global triumph, this film wins the most prestigious Chinese awards (People's Hundred Flowers Award and Golden Rooster) and a dozen other trophies around the world. In 2018, Jean-Jacques Annaud directs in Canada Patrick Dempsey in his ten-part TV adaptation of Joël Dicker's best-seller The Truth about the Harry Quebert Affair (2018). His autobiography Une vie pour le cinéma is published that same year, co-written with Marie-Françoise Leclère, by Éditions Grasset and Fasquelle.
Film Award of the National Academy, Knight of the National Order of Merit, Commander of the Order of Arts and Letters, Jean-Jacques Annaud is a member of the prestigious Institut de France (inaugural speech). Winner of the Charlemagne Medal for European Media (Karlsmedaille für die europäischen Medien), he is internationally awarded and honoured with five César Awards in France. Jean-Jacques Annaud's filmography has been the subject of several books. His film archive, news and set pictures gallery are available on his social medias.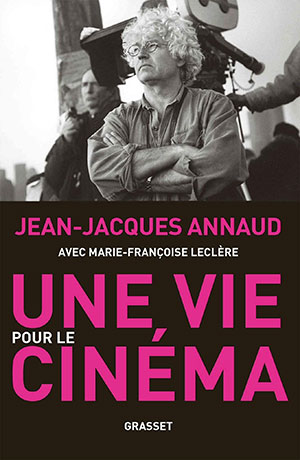 Tweets by JJAnnaud