JEAN-JACQUES ANNAUD
THANKS
REPÉRAGE is happy to convey its sincere thanks to the following people and partners for their availability, their kindness and their help in the publishing of this site : Alastair ALLEN (Europacorp International Department Roissy Films) - Amy HALLORAN (Metro-Goldwin-Mayer) - Aurélie DUBERY (Fondation Jérôme Seydoux-Pathé) - Benoit BARBIER (photographe) - Carole LEROY (Sony Pictures Entertainment France SAS) - Clément GERAY (Studio Canal) - Corine FAUGERON (Musée Gaumont) - David KOSKAS (www.davidkoskas.com) - Eric RUBLON (Video Digital Mutlimedia) - Jean-Phillipe VARIN (Studio Jacana) - Naima ALOUANI (Repérage) - Nicolas ELGHOZI (Galatée Films) - Sabrina JOUTARD (Pathé).
TRIBUTE
James Horner (1963-2015) is the author of over 80 movie themes since the early 1980s. He is, with John William, one of the major composers of his time. He signed the soundtracks of major successes, such as Titanic (1997) and Avatar (2009) by James Cameron. He was rewarded by two Academy Awards, two Golden Globes, three Satellite Awards, and three Saturn Awards. In 1986, Jean-Jacques Annaud asked him to join The Name of the Rose (1986) project. On this occasion the musician used samples of ancient instruments for the first time. The two men were bound by a strong friendship. They worked together again on Enemy at the Gates (2000), then on Black Gold (2011) and finally on Wolf Totem (2015). "James is to me a wonderful journeyman of creation: together, we speak about the meaning of the movie and come to an agreement in a split second, sometimes even in a 24th of a second. He has my absolute trust… To work by his side is always exceptional moments". Jean-Jacques Annaud.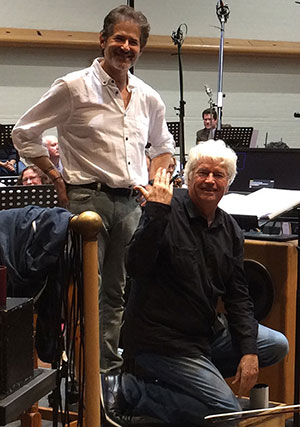 This website is the exclusive property of REPÉRAGE - Editor and Graphic Design : Mathilde ANNAUD - Technical Design : Grégory GIBAND - English translation : Eric STERLING-COLLINS - Chinese translation : 在翻译的过程中 - HomePage Pictures : davidkoskas2003, alexbailey2001, mariannerosentiehl1988, bailong2015, mariotursi1986, takashiseida1981, wingsofcourage1994, davidkoskas2003, benoitbarbier1992 - Infogestion : XINIUS 11 rue des Réservoirs, 78510 Triel-sur-Seine - Hosting : OVH SAS 2 rue Kellermann, 59100 Roubaix – France. Tél : +33 9 72 10 10 07 ou 0 820 698 765 - All rights reserved 2018.